I recently decided to sell my children's picture book The Frog and Lizard's Final Goal on AdinkraScrolls. I had heard about AdinkraScrolls in mid-2021 when I went to a GAW (Ghana Association of Writer's) Sunday program in PAWA house. GAW Sunday is a program held every first Sunday of the month and is open to both writers and the general public. Writers are provided with a platform to share their work and open it up for discussion. It's usually a fairly casual affair and with lively conversations centered around literary works. It was at such a weekend program that I heard about AdinkraScrolls.
It was then, I found out, that the online bookselling and shopping platform, AdinkraScrolls had been created and then launched on Monday the 15th of February, 2021 by the Ghana Association of Writers to sell and promote books by Ghanaian and other African writers. I thought it was a great initiative.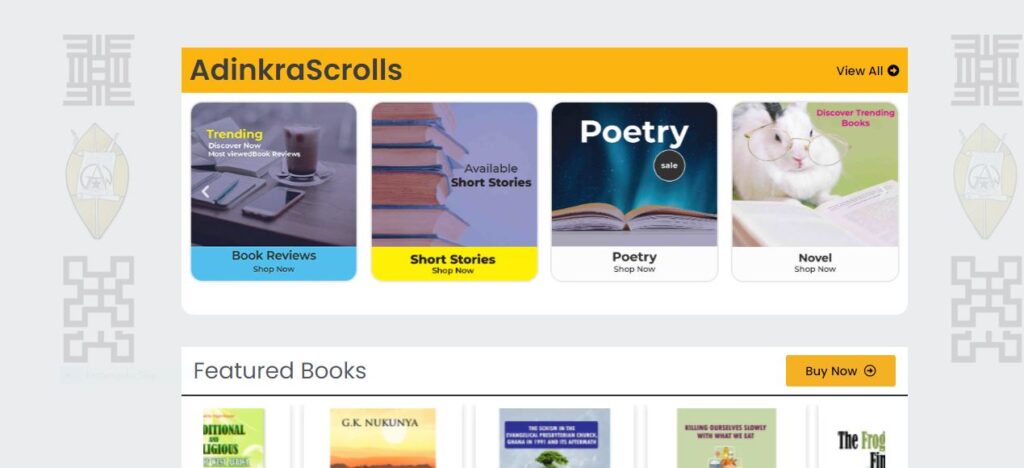 The idea to create an online bookselling and shopping platform had initially been conceived by the NEC, and the idea became very pressing during the COVID-19 lockdown in March, 2020, when the Ghana Association of Writers, like many other organisations, was forced to suspend its field activities.
According to Mr. Francis Gbormittah, the current President of GAW, AdinkraScrolls is intended to increase awareness about African and Ghanaian literature, encourage writers to meet global standards of literature, brings additional income to authors, as well as make interesting and informative e-books, audiobooks and paperbacks available to young readers.
Mr. Francis Gbormittah also says, that the creation of AdinkraScrolls, is not a substitute for the crying need for well-stocked libraries. The effort of writers, will not be sufficient until the respective Ministries of Education, Tourism, Culture and Creative Arts, recognize the centrality of their involvement in the search for a solution to the low reading levels among children and the youth. It is only with the involvement of these Ministries, that Ghana can work towards the realization of the AU's Agenda 2063 The Africa We Want and the United Nations' Sustainable Development Goals. I completely agree with the points he raises above.
My own experience with AdinkraScrolls
I already had an account on the GAW website as a user, so in order to sell my book, I had to change my account category to one of a vendor. This process was very simple. It was also fairly easy to navigate through the site and add the categories of my book as well as upload it as an encrypted pdf file.
A vendor is provided with a dashboard, where one can add product details including price and product description. The dashboard also enables a vendor to see a product's status.
On my dashboard, I was required to provide the synopsis of my book, name of author, name of publication, ISBNand other important details relevant to my book, including a square image for a cover thumbnail.
After, I uploaded my book, I was notified that I was to be approved by the webmaster and received my approval after about 48 hours.

How does AdinkraScrolls work?
AdinkraScrolls is open to GAW members, vendors, publishers and people interested in buying and selling books – both e-books and paperbacks.
There are no limits to the amount of products one can sell on the platform. Authors earn 70% percent of the sale price set by the vendor. According to the AdinkraScrolls platform, sales are affected quarterly. More on the FAQ page here.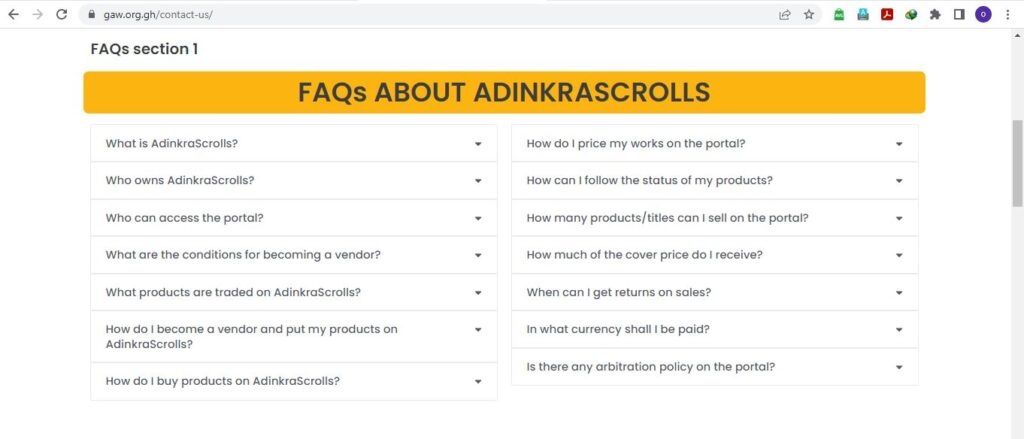 The future of AdinkraScrolls and what we can do
The brutal truth may be, that many writers would rather sell their books on Amazon and other of its competitors. Understandably, they would like to reach a global audience, increase sales and put more money into their pockets. This applies to both independent writers and those that go through the traditional publishing route. More sales and recognition, is a dream for every author, first time or seasoned.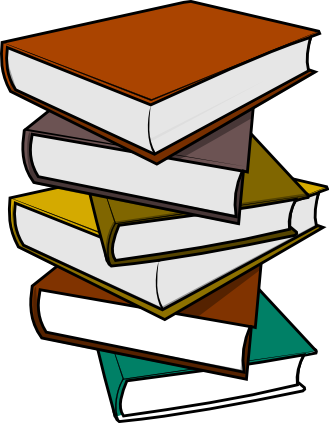 Generally, using a relatively new platform that is yet to prove itself always carries a degree of risk. But then, what other options are there, open to us, who are interested in supporting local initiatives? Creating and managing such platforms also provides work to our local IT professionals, a no less important issue, probably worthy of exploration in a blog post of its own.
Every successful business including Amazon started off small. From the beginning in 1994, Amazon, which interestingly enough started as an online marketplace for books, has had its fair share of challenges, and over the years and has worked really hard to grow and provide excellent service.
AdinkraScrolls is still relatively new, but it has potential and will grow. From its end, GAW is open to receiving feedback on AdinkraScrolls in order to improve the platform for both vendors, publishers, authors and readers. But it would be challenging for them to receive useful feedback if the platform is not being actively used, in order to generate the feedback needed by the organization.
Unfortunately, some authors have quietly expressed a level of distrust in this Ghanaian platform, siting lack of surety in their content's protection, and issues of copyright to mention a few. It should be noted these issues are not exclusive to Ghana but are a worldwide problem.
In order to address this, GAW could hold frequent workshops in the context of promoting AdinkraScrolls, and educate the public as well as GAW members, on the issues of protection, digital right management and other related issues, in order to help alleviate both writers' and publishers' valid concerns.
GAW may also want to consider ramping up marketing strategies for the platform, and introduce marketing and sales programs, tools that can be used online by authors to take initiative and promote both themselves and their work. I also think it would also be worthwhile adding some more technical guidelines for those uploading audio and e-books.
At this point, we cannot quite compete with the level of service provided by Amazon. However, we can and should give local initiatives a try, in order to promote Ghanaian platforms, even if they are a humble beginning. The growth of AdinkraScrolls is a joint effort.